Silvermine Summer Salon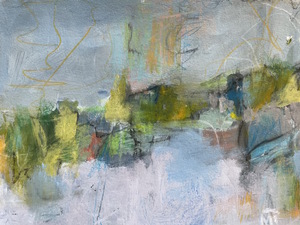 My abstract acrylic on paper is included in the Silvermine Guild Summer Salon, which runs from 7/17/21-8/20/21. Check out the talented guild artists. If you buy a piece, you can leave with it the same day.
---
Time and Again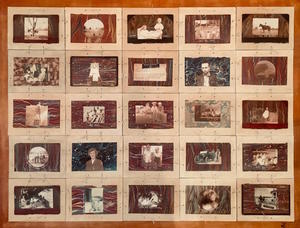 Family Quilt is part of the Concepts Group show "Time and Again," celebrating 200 years of Darien's independence and 100 years of women's suffrage. The art show and fundraiser benefits the Darien Historical Society, February 1-14, 2020, at the society, 43 Old Kings Highway North. My piece uses antique books, family photos and thread to tell the story of the Darien family I married into, the Weeds whose descendants have lived on the same land, once called Gude Wyf's Farm, for seven generations.
---
Silvermine Guild Summer Salon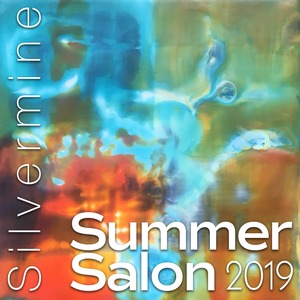 My encaustic piece, "Sweet Lorraine," is included in the Silvermine Guild Summer Salon,
Silvermine Galleries, New Canaan Ct
July 6-aug 21, 2019
Juried by Paul Efstathiou, Director of Contemporary Art, Hollis Taggart, NY
---
Best in Show at Stamford's Loft Artists Association 5th annual tri-state juried exhibition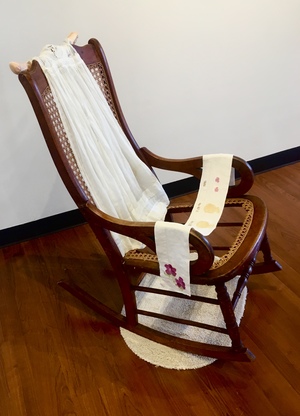 I am honored to have been awarded Best in Show at LAA's show, Relishing Restraint, curated by Krista Scenna, owner of groundfloor gallery in Brooklyn. My piece, "When the Bough Breaks," uses the rocking chair where I nursed my two sons. The chair, now seatless, represents the joys and sorrows of motherhood. I stitched the dates of the births and miscarriages of my children on a linen draped across the chair arms.
---
Silvermine Guild of Artists New Members Exhibition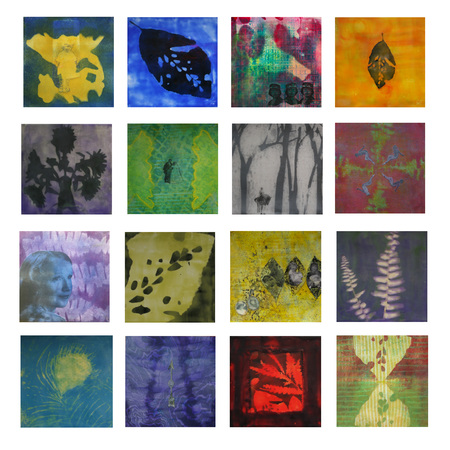 Image: "Peggy's Garden," 38" x 38" encaustic, by Meg Tweedy

"Peggy's Garden" is an ode to my recently deceased mother, an artist and farm girl who embraced, nature, color and life itself with passion and determination. Employing encaustics to create colors and shapes, I alternated surfaces of wood and fabric, painting and mono printing to contrast textures as I played with size, color and repetition. Images of Peggy, some half hidden, allow the seasons of her life to mimic the seasons of this garden.

​January 7 through February 4, 2018
Opening Reception, Sunday, January 7, 2-4pm
Artist talks January 28, 3 pm



Silvermine Galleries is excited to present an exhibition in the gallery for the following new Guild Artist members:

Lexi Axon, Rita Baunok, Paul Baylock, Bruce Campbell, Andrew Graham, Elizabeth Higgins, Myke Karlowski, Ethan Newman, Jesse Nusbaum, Laurie Peek, Claudia Renfro, Robert Sachs, Sebastian Smith, Rashmi Talpade, Meg Tweedy, Susan Wilson and Matthew Yanchuk.

New Member show Online catalog:
Silvermine Arts Center is one of the oldest artist communities in the United States. Its five-acre campus in New Canaan, Connecticut, consists of a nationally renowned artist guild, an award-winning school of art offering classes for all ages, an arts and fine crafts shop, and a gallery offering over twenty contemporary and historic exhibitions annually.

Silvermine Arts Center Gallery
1037 Silvermine Road, New Canaan
203 966 9700
silvermineart.org