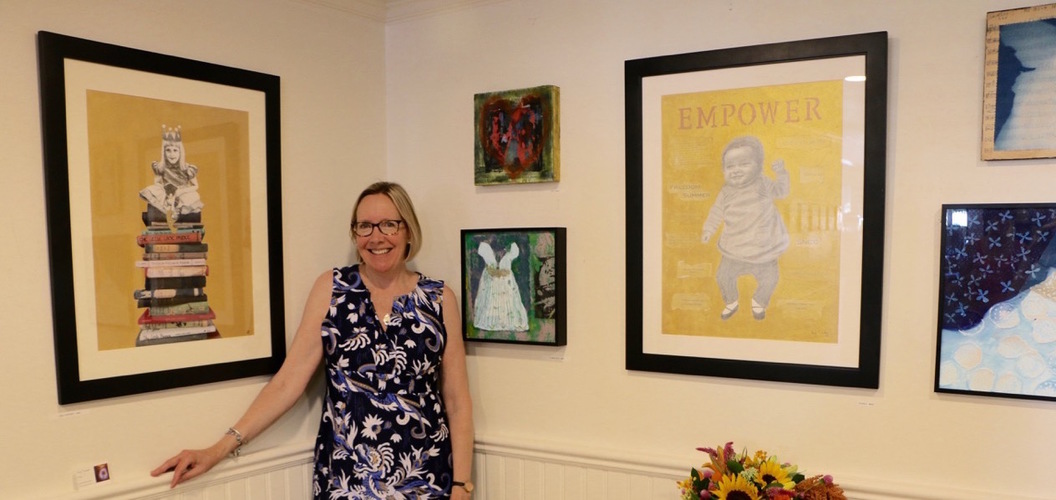 I am a conceptual artist, working in acrylics, collage, sculpture, photography and encaustics. My work is very personal, relating to nature, people, places and things I know intimately. As a writer, I am always looking for the story in my work. Many of my pieces are inspired by or incorporate family members, heirlooms, poetry, my past. I am drawn to objects that have a history. With time comes imperfection, richness.
After graduating college, I worked in journalism and began taking painting classes with Churchill Davenport at the Silvermine School of Art. Later I studied at the Rowayton Arts Center and the Darien Arts Center, and from 2012-2016 I took Conceptual Art classes with Constance Kiermaier, 2016 recipient of the Silvermine Living Art Award. That class led to the formation of the Concepts Group in 2017.
Initially, I painted en plein air in acrylic and pastel as a member of the Holly Pond Painters in Darien.
We created four permanent murals in the Darien Nature Center's classrooms.
Then in 2012 I began to take my art in an abstract/conceptual direction.
I am a member of the Silvermine Guild of Artists and am an exhibiting artist at the Rowayton Arts Center (RAC). My sculpture, painting, mixed media and photography have won awards at the Greenwich Arts Society, RAC, the Darien Art Show and the Stamford Loft Artists Association. I have also been accepted in juried shows at the Art of the Northeast at Silvermine Arts Center, Ridgefield Guild of Artists, the Carriage Barn Arts Center in New Canaan and through the Stamford Art Association at the Ferguson Library in Stamford. My pieces have been exhibited at the Darien Library, the UConn Stamford branch, SoundWaters of Stamford, the Darien Nature Center, the Darien Historical Society, Atria in Darien, Waveny Care Center in New Canaan, Brendan's 101 in Rowayton and the Community Cooperative Nursery School show in Rowayton. Many pieces hang in homes in California, Denver, Texas and up and down the East Coast.